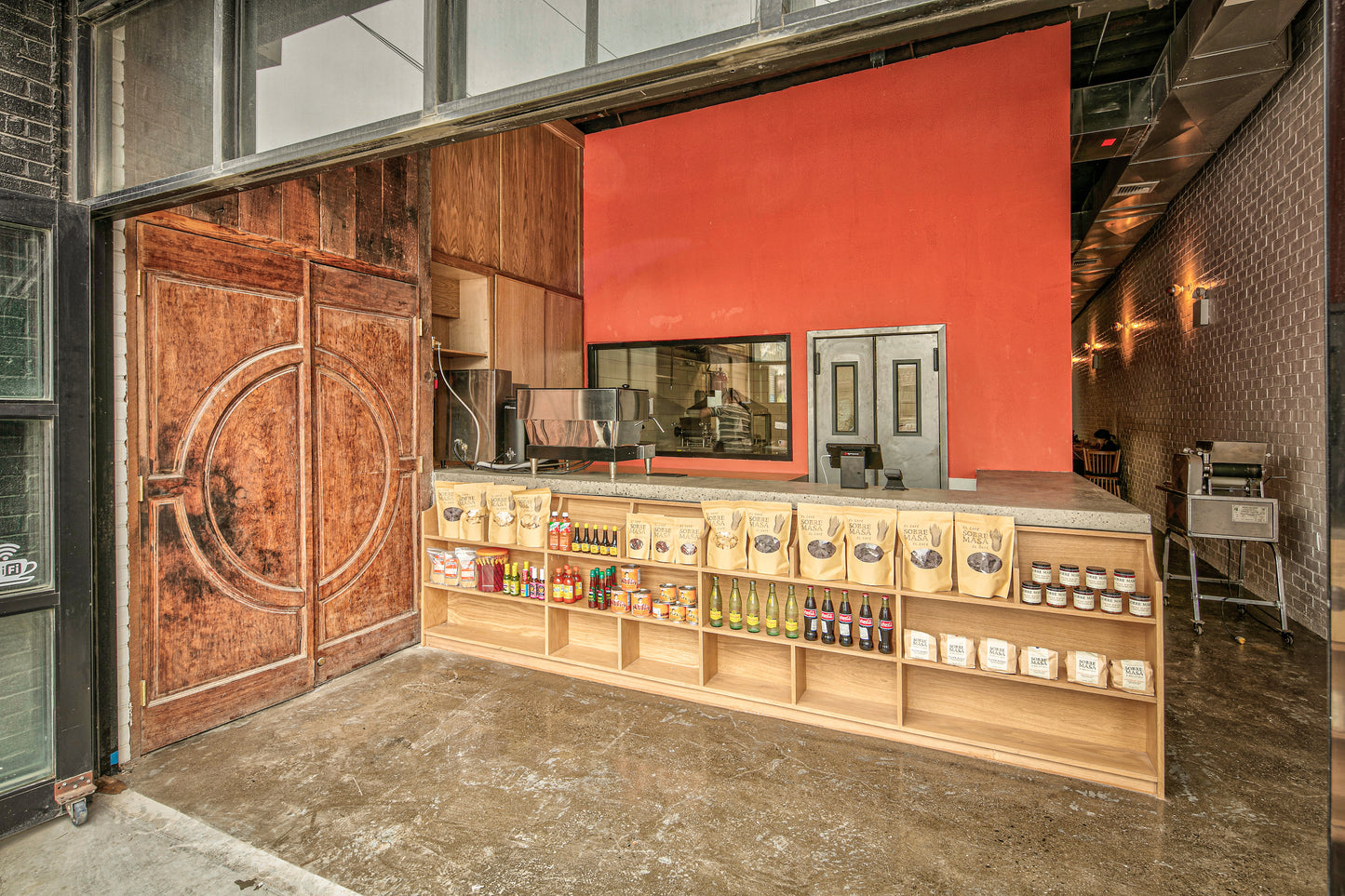 Brooklyn, New York, October 2021
- Zack Wangeman, founder and chef behind the beloved Brooklyn tortilla brand and cafe,
Sobre Masa
, and his wife Diana Wangeman, open
Sobre Masa Tortilleria
in Bushwick [52 Harrison Place, between Knickerbocker Ave and Morgan Ave]. The vibrant space features a tortilla factory that sells fresh, house-made tortillas alongside Mexican groceries and goods, a morning coffee shop with Oaxacan coffee and house-made Mexican pastries, as well as a taqueria with a variety of traditional taco styles and cocktails highlighting Mexican spirits. Zack's mission and ethos behind Sobre Masa Tortilleria is to promote conversation around Mexican culture, the rich history of heirloom corn, the hardworking producers and growers of Mexico, and his home of Oaxaca. 
The husband and wife team: 
Zack Wangeman was born and raised in Oaxaca, and has worked at some of the world's most acclaimed restaurants, including
Celler de Can Roca, Etxebarri
and
Per Se,
all while consistently traveling back to Oaxaca to immerse himself in Mexican food and culture.
As a result of nostalgia for the food of his hometown, Zack started hosting pop ups in New York a couple of years back that featured quality, authentic ingredients, all while and allowed him to develop his nixtamalization techniques, gain a deep understanding and respect for the process, and tap into the Mexican corn farming community to shine a light on the varieties of heirloom corn and the role it plays in his culture.
Earlier this year, Zack opened Sobre Masa Cafe in Williamsburg, which has become a beloved destination known for its variety of Oaxacan dishes, pastries and coffee. He also launched a business where he supplies tortillas to notable restaurants like
ABC Cocina, Colonia Verde
, and others throughout New York.
Diana Wangeman, who graduated from medical school with a surgeon degree, was also born and raised in Oaxaca, where her mother is the well-recognized chef and owner of Tierra Antigua, she grew up around the corn and has always been cooking with her mother traditional dishes from generations.
Zack and Diana are always looking for someone to talk about corn and share their stories; promoting their culture is something the are very proud of.
Photography: Adam Friedlander